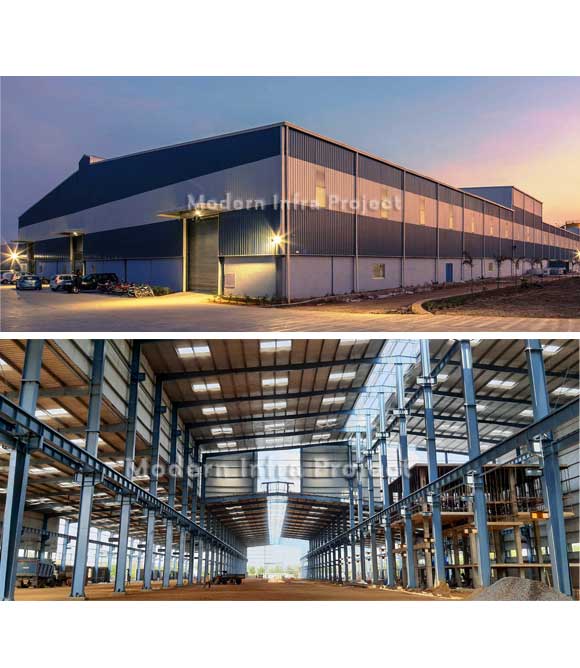 ABOUT US
We build everything that you needed
Modern Infra Projects is not merely supply the buildings to customers but to put in use our expertise at each and every stage of project right from the initial stage i.e. concept and planning, Designing, Detailing, Manufacturing and Execution of projects to provide customer an Economical and a superfast solution for his requirement.
The foundation of Modern Infra Projects has been laid by professionals having rich experiences in Business Development, project management, project execution and customer relationship.
Design & Engineering
Project Management
Manufacturing
Logistics & Erection
Why we are best PEB Construction Company in India
We meet the growing demand of Pre-Engineered Buildings in India and to provide complete end to end solution to clients for their Buildings requirements has been the main reason for emergence of Modern Infra Projects.
Design, detailing, fabrication & installation
Feasible and an economical solution
International standards
Stringent quality control at each stage
Smooth execution within scheduled time
Focus on making a long-term association
WORKING WITH EXCELLENT
Our special services
Get rapid Industrial building solution with customizable options with PEB technology.
Multiple number of storeys can be constructed with relatively simple, fast & riskless & accurately
Provide PEB Construction Services
Fast
Durable
Cost Effctive
Click to Get Cost Estimation of Your Project
Customized storage Solution as per the requirement with easy expansion options.
Get cost effective and turnkey solutions to our clients including civil and structural PEB work.
Trusted by Many Industries, Industrialists & Working Partners
Our projects are fully monitored from design to fabrication & complete installation by our quality control ensures project delivery is on time and the product processes are accurate with a 100% satisfaction guarantee.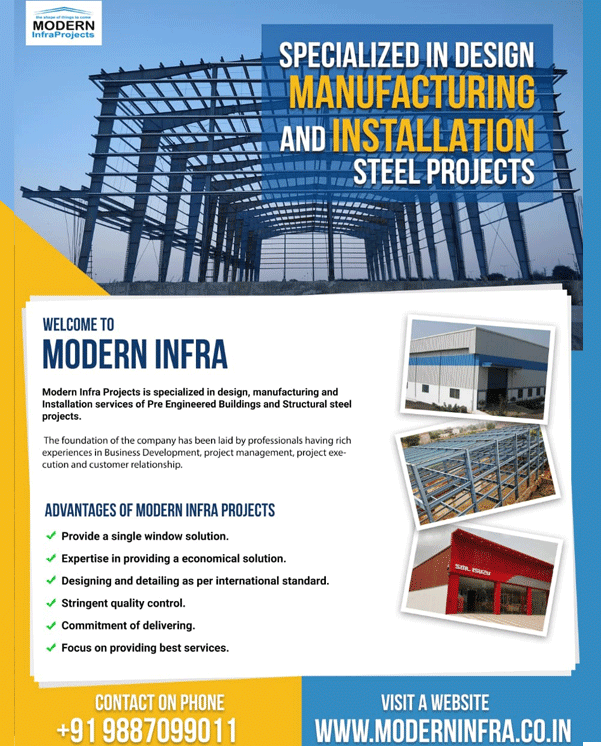 Modern Infra Projects
The components and structural system of PEB
Primary Framing System
The Primary members are available in high grade steel of minimum yield strength of 345 Mpa.
Secondary Framing System
Purlins, girts and eave struts are secondary structural members used to support the wall and roof panels.
Roofing And Wall Cladding
The Component have excellent corrosion and weather resistance longer spanning capability, Thermal Efficiency, Long Durability & Safety
Testimonial
What our clients saying?

We would like to deeply thank all that made this project happen. The team of was extremely professional & always a delight to deal with.
Mr. Rajan Jhiriwal
( director mama group)

The entire team tactfully of Modern Infra Project delivered a project of exceptional quality while staying on schedule and under budget.
anuj agarwal
( CEO gyan dairy lukhnow )

Modern Infra Project has exceeded our expectations, and we consider them one of our trusted partners in the Jaipur market.
vinit jain
(MD- universal auto foundry JAIPUR)

Thank you for guiding us through the construction process, being kind, understanding, and always ready to accommodate our needs.
dilip chandra
( Md dilip chandra and associates )

Words simply can't express the level of appreciation and gratitude we feel for the Greiner Construction team's passion and dedication.
ajay shanghi
( Shri krishna urja jaipur )
We Make Connections
Explore Recent Portfolio
Check our latest Products. Sure you'll find something different approach to timeless craftsmanship and attention to detail can make in your next construction project.